About BGA of Madison Summer Camp:
Welcome to Badger Gymnastics of Madison Summer Camp. We are pumped this summer to spend all 12 weeks in our 12,000 square foot facility and our outdoor camp area with your camper! Activities will include gymnastics, games, obstacle courses, water activities, art projects, messy experiments and more. We will also utilize our large outdoor area for "lot and field" play. Our high energy staffers are ready with themed games and activities for each week of camp. Our co-ed camp is open to children five to thirteen years old. We will conduct twelve, one-week sessions (you may sign up for one, multiple, or all sessions.) 
Registration information: 
Registration for BGA of Madison Summer Camp 2022 opens on January 17th!  You can register and hold your child's space by registering online to hold your spot with no deposit! If you do not see a registration link in the week of your choice, it means the week is currently full. Feel free to add yourself to a waitlist and we will call or email you as your waitlist request becomes available.
Pricing for camp:
$320 per week, per child
$300 per week for each additional week
Drop-in option:
Unable to attend an entire week of camp? Contact John in our office to discuss options. 608-271-1885 or badgergymnastics@gmail.com.
Do you need child care beyond our camp hours?
Sign up for Extended Care by clicking on the registration link below. Extended Care is charged on a weekly basis based on time spent in Extended Care.
Extended child care hours:  7:30am to 8:00am and/or 3:30pm to 5:30pm
Extended Care cost: $10/hour
Extended Care sibling discount: $8/hour 
Open enrollment: April 11, 2022
Have you ever wanted more time to work on your gymnastics skills? Perhaps you've always wanted to work on back handsprings, or get that kip on bars! Our Summer Skill Clinics will allow you to choose what category of skill you want to work on. Our instructors will help you progress your skills and set up drills and progressions that will get you closer to your attaining your goals. These clinics are great for skills class gymnasts, team gymnasts and tumblers who want to advance their skills!
Session 1
Session 2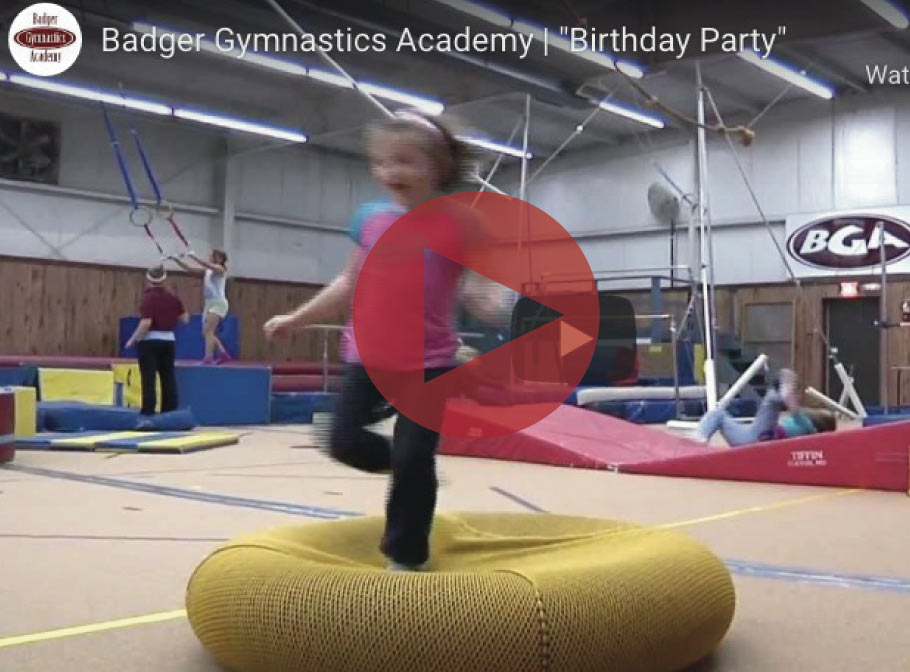 Did you know we host Badger Birthday Parties?
If you are looking for a quick and easy way to host a birthday party in Madison or Waunakee? Badger Birthday Parties are just the ticket!
1. Pick a Saturday that works for you!
2. Invite Friends!
3. Be ready to have fun!
"We love to attend open gym once or twice a month, it's a great way to practice new moves and hone our skillset."
— Sherrie and Phil —
"I think the world of Badger Gymnastics. Not only what you teach the kids in gymnastics skills, but life skills as well."
— D.W. —
"Excellent boys gymnastics program that really focuses on skills. Also enjoying the toddler and parent program with our 2 year old."
— Shannon —
"Being on the BGA Team has been a wonderful experience for our girls. Beyond the skills and physical growth, they have also learned to feel comfortable to challenge themselves and that it is OK to make mistakes."
— Casey Samz, Parent —